Hellooo!
Day 15! Today is the Men's Gift Guide for Christmas! Again, like the women's, if you click on the product name, you will be taken to the website! I hope this gives you something or some inspiration on what to buy!
I have split my gift guides into two parts; the first is my top picks for this year and the second part is other things you can buy.
---
Even though these can be bought for men and women (which you will have seen in Blogmas Day 13) and they are in both gift guides I really like these cards. They help us look at our relationship with technology and it helps that person who is always typing away on their phone to see what may be happening with their relationship with technology. You can help her GoFundMe campaign if you click on the link above. When you buy the cards you also get the following:
30 days Digital Detox course
Your name on thank you page
E-book version (pdf)
First 50 pages of the book
and 3 more items
Thankful Mail is a company that design thank you cards. I am again putting this on both blog posts so people know about this company. Their designs are so unique and look much more individual to a thank you card you would find in a shop. These are super handy, especially just after Christmas! You pay around £6 ($8) per month to get a collection of unique thank you cards. You also get free worldwide shipping! What could be better than free shipping and unique cards you can send to anyone!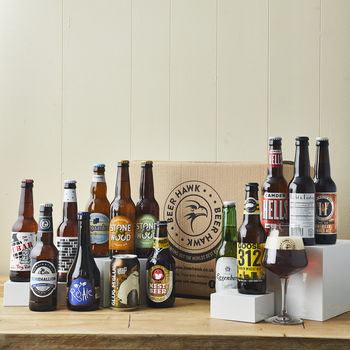 Do you have that man in your life who adores beer and loves trying new ones? I found this Beers of the World on Not On The High Street. It comes with 14 beers and also a glass! For under £50, this is an excellent present!
---
Other Picks:
'Moon And Back' Keyring; £10, Kutuu
Ultimate Beard And Face Maintenance Kit; £39.95, Grüum
You're My Guiding Star Steel Cufflinks; £45, Tales From The Earth
adidas Trefoil Khaki Dad Cap; £12.60, Urban Outfitters
Colour Block Jumper; £10, Primark
Vans Old Skool Trainers; £35, Urban Outfitters
---
Well there are my picks for this year's Men's Gift Guide! I hope you enjoyed this kind of post as I haven't done anything like these Gift Guides before!
Till Next Time!