Welcome to Blogmas Day 6! I hope you all have your Christmas decorations up by now! Decorating the house is one of my favourite things of Christmas and decorations cost money and so do presents! I have come up with some ways you can enjoy Christmas on a budget! I have split this blog post into two sections and those are; Decorating and Christmas Presents. I hope that this will help you when it comes to budgeting for Christmas.
---
Decorating
Now I don't know about you but decorating the house with Christmas decor is one of the most fun things to do in Christmas but sometimes there is a budget we have to stick to and therefore, here are how to stay on budget with decorations for Christmas so here are ways you can budget but also get the best and cutest decorations!
These three bauble packs are all under a £5 and combined come to under £10. The normal sets of baubles in the tree packaging are £8 each. If you want to spend less on decorations and more on presents, I would suggest getting these. This all adds up to £6 with is £2 less than one of the big normal packs. These will not add a sense of Christmas to your home, they will make the tree look beautiful!
If you have ever shopped in Home Bargains, you will know that it is cheap! These lights come in different amounts of lights so if you only wanted clear, the 100 pack would be good and if you wanted both, the coloured and clear would be the one for you. For under £5 for either of these products is astonishingly cheap and especially if budgeting, this is amazing!
If you have children, you can save money by making some snowflakes out of paper by folding it and cutting shapes of out the paper! You can hang these up anywhere and the kids will be happy to have made something for the decorations.
All of the above are from Wilko and if you buy more than one bit of Tinsel then it still won't collectively be over £10. The stocking is plain but you can buy cheap beads, glitter and felt so you can decorate your own and if you have kids then you can also get them to decorate their own stocking.  The tree topper is very cheap and although it is not an angel, you still have something to top your tree at a cheap price!
All of the trees above are from Tesco. If you don't mind having a fake tree but want something that will fill up your living room more, I would suggest one of these three. Although they are super cheap, I found last year that the tree was really nice even if fake.
---
So if we add up the following we can see the total for the decorations:
£2.50 – baubles
£1.00 – baubles
£3.99 – lights
£3.00 – 3 stockings
£2.00 – 2 tinsel
£2.50 – tree topper
£9.99 – Christmas tree
That equals up to £24.98 and is below £30! This gives you all the decorations you need for Christmas. Even better, you can find Pinterest boards which show you how to make other decorations!
---
Presents
Now if you're like me, you love getting people presents for Christmas but you don't want to spend too much on some people and others, you want to spend a little more. I have put together a few websites and some tips on how to keep the money in your bank account but get meaningful presents for people!
If you haven't seen my post on Uncommon Goods yet, click the link above and check it out and their website! This company specialises on bringing quality handmade products that are sentimental to those who want to find that special something for someone. Some products are pricey but some are within budget. I think if you are getting something sentimental for someone, Uncommon Goods is a place where you can get that.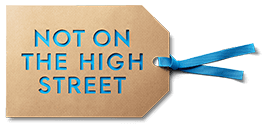 If you are looking for something more pricey but still sentimental, Not On the High Street is good for this. I bought one of Jack's birthday presents from here and a few presents here and there a few years ago. They have tons of stuff for you to look at and buy and it is always high quality. Although it is a little on the pricey side, I would definitely again recommend Not On the High Street for those sentimental gifts that may be a little out of the budget for that person.
You obviously need wrapping paper to wrap presents! So if you want some cheap you can get 3, 5M rolls at Wilko for £4 as it is 3 for 2. There is a range of designs and since it is cheap and you may buy some other stuff from Wilko for Christmas, you may as well as throw it in the basket too! The patterns they are are so cute and makes me wants to wrap everything up now!
You can also just use any brown paper for a rustic look! If you have any ribbon or anything like that around, use it to tie up the presents to give an extra touch to those sentimental gifts!
---
We, l there you go! There is how to keep on a budget at Christmas! I hope that you use some of these tips and apply to your own Christmas! If you do, tag me on Twitter or Instagram so I can see!
Till Tomorrow!